Talented Singer Elisa Bartoli Collaborates With Hollywood's Award-Winning Artist Steven Vitali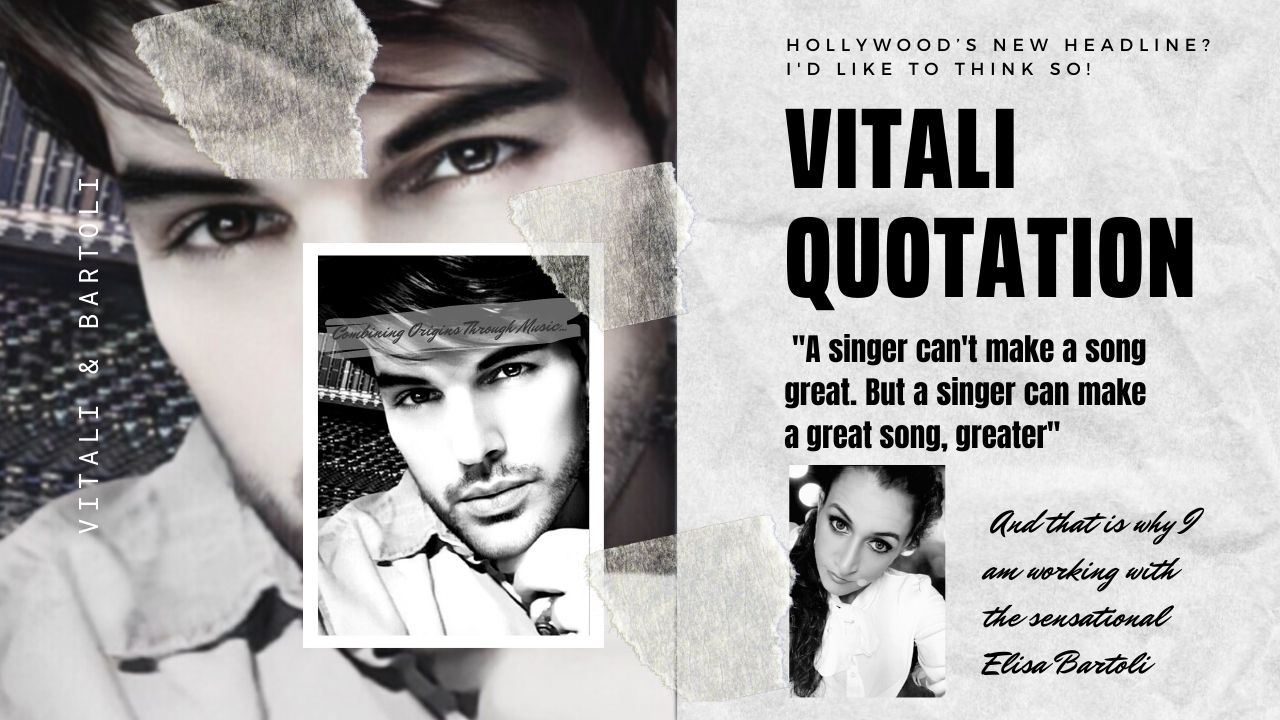 Talented Italian singer, Elisa Bartoli, seals new deal in the United States with music collaboration with the legendary Steven Vitali
It is looking like the best of both worlds as Elisa Bartoli collaborates with Steven Vitali, composer, arranger, writer, actor, film director, and hitmaker to make a new song that is being recorded in the United States and in Fano, Italy, the origin of both acts. Steven Vitali has likened Bartoli to a young Celine Dion. The collaboration will have Vitali creating and orchestrating the music while Steven and Elisa co-write the lyrics.
"I think nothing happens by chance. Indeed, I am convinced that, in some way, everything we do, every thought we have, and every experience we live leads us towards something already written. Like meeting Steven Vitali. If they had told me, years ago, that one day, out of nowhere, I would have had a great opportunity like this, I would never have believed it," said Elisa Bartoli.
Vitali's cousin Davide Bartoli, an Italian physician and surgeon, introduced Elisa and Steven first before the award-winning composer was intrigued by Elisa's voice after listening to a musical track sent to him by his cousin. The rest they say is history, as both artists come together to form an alliance like never before in the music scene.
Elisa Bartoli has achieved a feat that most singers dream of, working with the legendary Steven Vitali, who has been credited by many music industry executive elites with raising the bar for songwriting and instrumentation. The multi-award-winning multifaceted entertainer has continued to receive accolades from different quarters, with his current film, "The Jewels of the Salton Sea," getting over 15 awards in 2021.
"Working with a big artist like Steven Vitali is a great honor. He is not only a great composer, arranger, producer, and director, but he also has all the character peculiarities of great artists. He is human, humble, sweet, and even a little fatalistic, like me. Our very distant origins have made us meet and I hope they can take us far. Sharing the same origins and passion for music is a rare gift and what I would like, and what I hope, is not only to write a good song with him but also to establish a relationship of friendship and mutual respect. In an increasingly individualistic world, I believe it is important to cultivate human ones as well as professional relationships. And in this sense, I think I can say that Steven and I have already started on the right foot," said Elisa Bartoli.
"Working with Elisa was influenced by several reasons. This isn't about me trying to make my distant cousin's fantasy of being a superstar come true, but about instilling a deep and fresh healing nature from the roots of our beings, our hearts, for the world to enjoy. The main aim is to create a timeless artistic partnership because music is timeless. I don't believe in coincidences, but it's my guess. I'm sure Elisa feels the same way, that there was a lot of work put into bringing us together, but I can't forget the significance of this. In terms of other determining factors, I'd like to say that her singing, first and foremost, was the most important one. Getting a great voice and a great tune, on the other hand, does not always imply success in this industry. The singer, rather than anyone else, must believe in themselves, and I believe Elisa does, and that is where the magic will happen." – Steven Vitali.
Elisa and Steven are both motivated to demonstrate to people that even during a pandemic, it is possible to maintain one's aspirations. Steven Vitali is a man who makes dreams come true, with his debut record, "Come to Dream With Me," reaching #1 on the charts in 1990. Since that time, Vitali has been charting ever since he first signed a co-publishing deal with Warner/Chappell Music Publishing. Vitali has created a large window of opportunity for Bartoli, who has enormous goals as well.
The new song by Vitali and Bartoli, which has been dubbed the 'mystery song', is also being turned into a music video. Vitali has finished the orchestration and background tracks, and Steven and Elisa have already authorized and co-written the lyrics. The mystery song has been predicted by a few industry professionals and other industry elites to be in the top ten on the charts, if not #1 with a bullet.
"A singer can't make a song great. But a singer can make a great song, greater, and this is why I am working with Elisa." – Steven Vitali.
For more information visit – https://stevenvitali.com/, Facebook, and IMDB.
Media Contact
Company Name: MGM Records Hollywood
Contact Person: Management WB
Email: Send Email
Country: United States
Website: http://www.mgmrecordshollywood.com