Reduce Facial Wrinkles and Fine Lines with Varuza Ultra Moisturizing Derma Facial Cream
August 16, 2022 – Varuza, Korean beauty and skincare brand, has announced its Ultra Moisturizing Derma Facial Cream is now available on the Amazon marketplace. Packed full of natural ingredients, enriched in 17 amino acids, and liposomes, this unscented and oil-free facial moisturizer is specially formulated to help diminish wrinkles and fines for a younger look. It calms discomfort and hydrates dry and dehydrated skin.
Every woman who cares about her beauty knows that face moisturizers are an important part of a healthy skincare routine. While choosing a face moisturizer can be challenging, it is a necessary process that every woman must complete.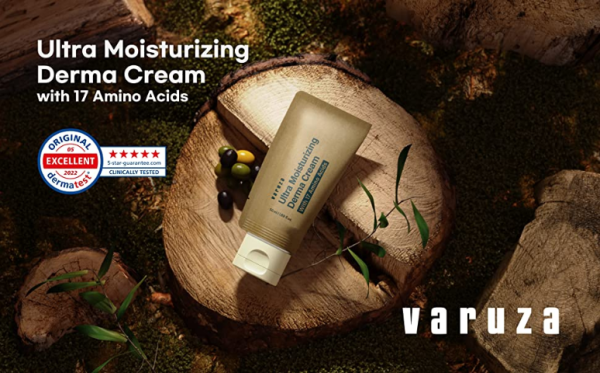 Utilizing natural ingredients, Varuza Moisturizing Derma Facial Cream is effective in achieving a bright, glowing skin. Ingredients such as red quinoa, port marigold, Centella Asiatica, and madecassoside in nano units deliver soothing, moisturizing and nutrition to the lowest layer of the skin, reducing redness and irritation. That makes this cream idea for those with sensitive skin or rosacea.
Amino acids, on the other hand, have antioxidant properties. They are a "must-have" not only for youthful-looking skin but also for their health benefits. Amino acids and short peptides are super nutrition for fibroblast cells to produce collagen, fibrinogen, and elastin, significantly improving the condition of the skin.
While liposomes are used as a delivery system, carrying active ingredients such as low molecular weight hyaluronic acid present in Varuza Moisturizing Derma Cream, to the deeper layers of the epidermis.
Hydrating the skin can help oily skin produce less oil. By applying an oil-free moisturizer, you help balance your skin, preventing an increase in oil, while still providing enough hydration to prevent your skin from drying out.
This moisturizer has no parabens, sulfates, mineral oil, petrolatum, lanolin, gluten, soy, or GMOs. It is eco-friendly and also 100% vegan and cruelty-free.
By using this product, you can have skin that's enviably smooth, hydrated, radiant, and refreshed. It acts as a natural skin brightening cream for your face.
For more information or to make or order, visit the Amazon product page and buy with confidence.
Media Contact
Company Name: Varuza
Contact Person: Andy Hong
Email: Send Email
Country: South Korea
Website: www.amazon.com/varuza-Moisturizing-Liposome-Molecular-Hyaluronic/dp/B0B12H3FW7