The Adjacent Possible: Evolve Your Art From Blank Canvas To Prolific Artist Named Winner of Top Book Award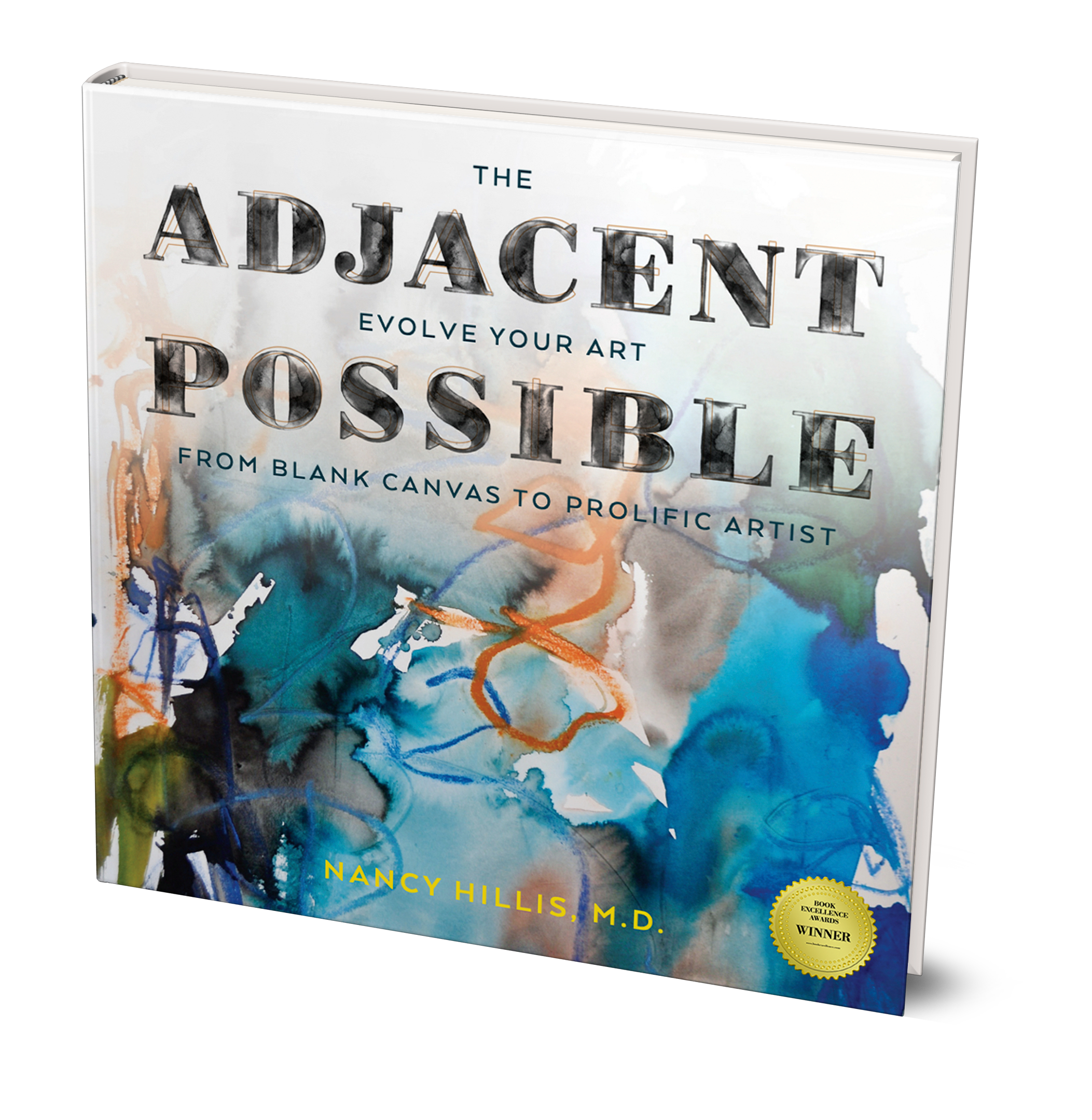 The Adjacent Possible by Nancy Hillis, M.D., is recognized for its outstanding writing, design and overall market appeal out of thousands of books submitted.
The Adjacent Possible: Evolve Your Art From Blank Canvas To Prolific Artist by Nancy Hillis, M.D. delves into the science of creativity and illuminates the art of the possible. Art has the power to heal, to inspire and to transform oneself and the world. The book is designed to help readers learn to trust themselves and set forth on a path to creating and living their most meaningful lives.
The Adjacent Possible was named a Winner in the Art category of the 2022 Book Excellence Awards, an awards competition dedicated to recognizing authors and publishers for excellence in writing, design and overall market appeal.
"The Adjacent Possible is intended to highlight the elements of the creative process in such a way to make them accessible to practicing artists," says author Nancy Hillis. An multi-award-winning author, artist and Stanford educated existential psychiatrist, Hillis' vision for writing the book was to help others trust themselves in order to nourish their creativity and develop alive, meaningful art.
In the book, Hillis presents a revolutionary method influenced by groundbreaking research in biology and physics that guides readers to embrace the unfolding of their art. Every brushstroke, every decision in art, creates a set of possible paths that were not only invisible before, but didn't exist before the creative move was made. According to Hillis, this is the adjacent possible. "I teach artists to overcome their fear, embrace the unknown and evolve their art. This book is a map and compass to that end," says Hillis. After reading The Adjacent Possible readers will learn to move past emulating other artists to find their own voice and evolve their art. A transformative reading experience from the inside out, Hillis lifts the veil on what it means to be a great artist, shedding light on the fact that it is about the movement of coming closer to who you are and reaching the fullest expression of you in your art.
The Adjacent Possible has received positive reviews from some of the most renowned authors, journalists, and reviewers around the world. Award Winning Artist, Maggy Herbert-Jobson, wrote, The Adjacent Possible is "a wonderful opportunity to explore ways of developing your art…by building up your confidence and willingness to explore and experiment. I cannot recommend highly enough."
Whether you are new to abstract painting and want to get started without overwhelm, or you are ready to delve deeper and transform your experience of creating art into one filled with confidence and joy, The Adjacent Possible Book Resource Library has something for you. The library includes Hillis' signature 5-Day Creativity Challenge and The Science of Creativity Podcast which can be accessed by visiting: https://artistsjourney.com/TAPBook
A perennial best seller, The Adjacent Possible, is Hillis' third book and is available for sale on Amazon, Barnes & Noble and other online bookstores.
About the Author
Artist, best-selling author, and Stanford educated existential psychiatrist, Dr. Nancy Hillis guides and inspires you as you step into the terra incognita of your soul and face your vulnerability as an artist. Founder of The Artist's Journey® workshops and courses, Nancy has led over 50,000 students on their creative journeys. Not only does Nancy encourage you to express yourself in your art, she has created courses and workshops to guide you on a tangible and accessible path to your deepest artistic fulfillment.
She's been featured in Inc. and The New York Observer. She lives in Santa Cruz, California and enjoys swimming, playing cello, and long discussions on art and the generation of novelty in the universe with her partner, theoretical physicist and mathematician, Dr. Bruce Sawhill.
Connect with Nancy Hillis:
Website: https://nancyhillis.com
Facebook: https://www.facebook.com/nancyhillisstudio
Twitter: https://twitter.com/nancyhillis
LinkedIn: https://www.linkedin.com/in/nancyhillis/
Instagram: https://www.instagram.com/the.artists.journey
YouTube: https://www.youtube.com/c/TheArtistsJourney
Pinterest: https://www.pinterest.com/drnancyhillis
Media Contact
Company Name: Author News Network
Contact Person: Media Relations
Email: Send Email
Country: United States
Website: authornewsnetwork.com