Gifted writer and advocate, Nathan Ssewaali, has released a new book titled "Lola And The Emotions Carousel"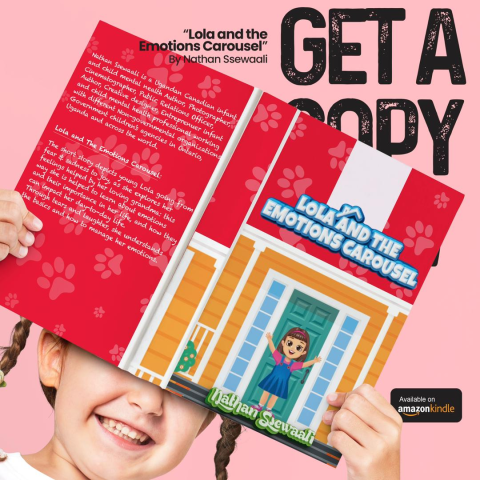 Gifted writer, photographer, cinematography, Humanrights activist, racial justice advocate and mental health advocates for infants, children and black people, Nathan ssewaali, has released a new book titled "Lola and the emotions carousel".
The short story depicts young Lola going from fear & sadness to joy, as she explores her feelings helped by her loving Grandma; this way she's helped to learn about emotions and their importance in her life, and how they can impact her day to day life. Through tears and laughter she understands the basics and how to manage her emotions.
The story in "Lola and the emotions carousel" is predicated on the mental health advocacy that Nathan is heavily involved in. Speaking about the series of events that led to his advocacy and ultimately, the short book, Nathan said: "I just finished my postgraduate diploma in infants and child mental health. Having immigrated from Africa at a young age, I found myself becoming a dad at a young age and one of the things I was always worried of was how I could raise my kid to be a champion."
Continuing, Nathan said: "I realized there is a lot of mental health issues affecting childrens and infants. I realized these factors have not been given enough attention. So I found it important to start advocating for kids and teaching parents that are less sensitised about mental health. I decided to write this book that could help assist children going through emotional behaviour learnt something."
Nathan is not slowing down on his advocacy any time soon. In fact, he plans to add more fire to it. Nathan intends to advocate for black and indigenous communities, as well as marginalized communities in North America. "I intend to advocate for racial justice in North America, advocate, empower, and teach about mental health. I also have a project in Africa where I help and empower street kids. Currently I have two kids from the streets whom I adopted. In the future, I'll love to help and empower more kids and families," he declared.
Recently, Nathan revealed he has a role model in Kyagulanyi Ssentami, aka Bobiwine, a political activist and a former presidential aspirant from Uganda. He is a Musican who was raised in ghetto but has worked hard to become one of the best young inspirational leaders in Africa who has always encouraged youth in uganda to believe in themselves. "He has impacted a lot of young people, engaging and motivating them to work hard because he believes if you work hard everything is possible", remarked Nathan.
When Nathan is not writing or on advocacy duties, he loves to unwind with some lovely hands on activities, photography, cinematography, walking, interacting, playing with kids, reading and writing, traveling, and playing musical instruments.
Nathan Ssewaali has a message for the younger generation: "I encourage the young generation always to be open to their parents, and share their fears and feeling for this will bridge that parent child relationship. I also advise children to make their emotions be felt by their parent where they can sit together and come up with possible solutions. Parents should also be able to sit down with them and come up with solutions" he advised.
Media Contact
Company Name: Nathan Ssewaali
Contact Person: Media Relations
Email: Send Email
Country: Canada
Website: www.nathanssewaali.com