Jenesis Peaks Set to Release Highly Anticipated Book "Two Angels and a Biscuit Full of Honey"
"A profound book with a life-altering change with the testimony of author Jenesis Peaks." – Dr. Melissa Caudle
Jenesis Peaks is a highly skilled, published author, spoken word poet, creative performer, and seasoned entrepreneur who has garnered a wealth of experience working through a select number of professional occupations for many years is set to release the new book "Two Angels and a Biscuit Full of Honey."
Los Angeles, CA, USA – July 26, 2021 – For a decade and a half, Jenesis Peaks has had engagements working white-collar jobs in corporate America where she learned vital lessons about business and resource management. Before venturing into entrepreneurship, she also functioned in the capacity of Project Manager at many organizations where she recorded huge successes with the rest of her team. Furthermore, she attended universities where she excelled in business erudition. Peaks always knew she would become a writer, even as she took an unlikely path to that destination. Now set to release, "Two Angles and a Biscuit Full of Honey," Peak's book has received rave reviews.
Having being raised by Christian parents, Peaks was made to know the Lord from a very young age. After several years of serving in the church, she received the call to take her ministry of the arts beyond the church, birthing a series of community productions that helped her navigate her way into mainstream entertainment. However, her dreams and aspirations in regard to all she has planned to do in the industry were met with feelings of distraught and hurt — events that to a very large extent, took its toll on her passion for writing. While she was battling with the perceived loss of her writing prowess, she equally found herself homeless for a season.
Upon all the hardship, Jenesis mustered enough strength and courage to keep the dream of being both a writer and speaker alive. From that moment on, she has performed her spoken words on many occasions. As an extension of her creativity, Peaks wrote and self-published her first novel, "Love in The Second Degree" in 2014.
Reviews
Be sure you get your copy of "Two Angels & A Biscuit Full of Honey." This story shares "A True Story of Life, Death, and Life." A testimony of Jenesis Peaks and her life-altering experience. This story shares the Power of God in all of His Glory towards us. Jenesis shares an experience that happened 21 years ago during the birth of her youngest daughter Ree'nasia. It is a story that will encourage you to live a life that is pleasing to God, a life that will lead us to a place that Jenesis "wanted to stay." I do not want to share too much but please go purchase this book to find out what happened; you will not be disappointed.
I just read this book and when I tell you, it will have you looking at life through a different lens. I mean the lens of God. This book will change your life. Everything we go through and everything that we think we need material-wise has a different view through the eyes of God. Everyone I know needs to read this book. No matter if you believe in a higher power or not. this book is based on a true story told by the woman who wrote it, my friend, and a true-life earth angel.
ABOUT THE AUTHOR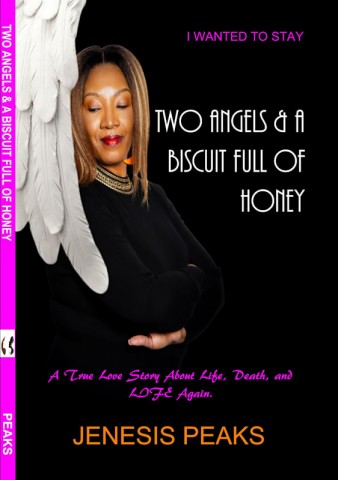 A songwriter and poet, she has now found her voice and is on a mission to bring love, joy, laughter, and happiness to many people in the world over through her writing and creativity, — a vision she has had since childhood. Peaks is also the Producer and CEO of Jenesis Peaks Entertainment, LLC where she has written and directed several off-Broadway shows such as, "Will You Be Ready," "Restoration," "The Greatest Gift," "Lord I'm Coming Home," the musical stage plays, "Back to My 1st Real Love" and "Wailing in the Waters."
She has been described by family, friends, colleagues, clients, and close associates as a God-fearing, kind, humble, confident, and compassionate person who is always on the lookout for ways to help people live and lead better lives. She is currently releasing her first non-fiction book based on her real true life love story about life, death, and life again. It replicates Jenesis's true-life ordeal giving birth to her last child, which left her fighting for her life as she passed over into paradise. Also, in the pipeline, Jenesis will be directing "Burn," a poetic stage play about love, sacrifice, forgiveness, and deliverance coming in the fall of 2022.
Media Contact
Company Name: Jenesis Peaks Entertainment
Contact Person: Jenesis Peaks
Email: Send Email
Phone: 5044677180
Country: United States
Website: https://www.jenesispksent.com/books