Two types of mild and moist cleansing pads launched by the ALOCASIA brand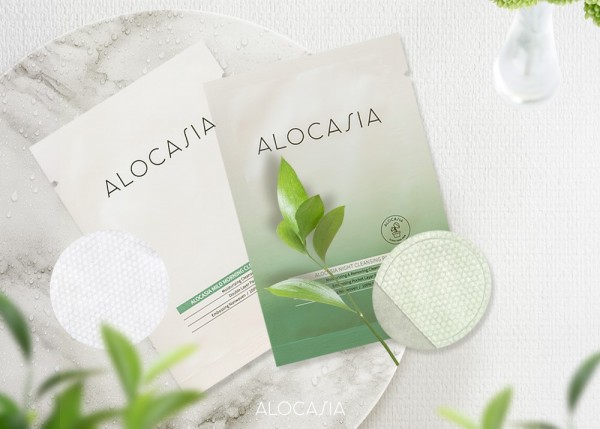 As the hallyu (the Korean-Wave) is attracting attention as a new trend, K-cosmetics is also becoming a new trend in the North American market. K-cosmetics boasts inexpensive yet high-quality and is characterized by a variety of natural ingredients that customers have never experienced ever before.
Among them, the cleansing pad released by the ALOCASIA brand consists of two types such as a morning cleansing pad and a night cleansing pad. Furthermore, This pad is as an eye-catching product among a variety of cleansing products because it is released optimized for different purposes.
The Mild Morning Cleansing Pad is useful to give water to dry and sensitive skin after sleep. This pad is also designed to clean up the skin to have a good make-up base and color makeup in the morning. It is characterized by colorless and odorless ingredients to minimize irritation to the skin.
Anthocyanin, which was patented by the Korean Intellectual Property Office as a substance that prevents skin damage from air pollutants, clean skin wastes accumulated during the sleep and improve oil and water balance to cleanse as well as brighten and smooth the face. Its hyaluronic acid moisture film is effective to strengthen the skin's moisture barrier, allowing customers to keep the skin moisturized for a long time through the day. With its double-layer technology, the embossing on one side cleans the waste accumulated on the skin, and the 100% natural cotton on the other side protects the skin mildly and gently.
The pad is made in a big size of 80mm to allow enough one-step cleansing with a single sheet. It also contains 10ml of sufficient cleansing essence compared to other regular pads, thereby providing individual users with sufficient satisfaction in use.
Unlike the morning pad, the night cleansing pad neatly removes the accumulated waste of the skin during the day and brings vitality to the tired skin. This pad contains a lot of oil ingredients to smoothly remove customers' heavy make-up, and it once again cleanses and moisturizes the skin before going to sleep.
Along with the double layer with embossing and 100% natural cotton, this pad is designed with a pocket type to allows customers to insert their fingers into the pad. Like the morning cleansing pad, the night cleansing pad also removes fine dust and wastes accumulated on the skin by the patented anthocyanin ingredients for the day. Its natural essence materials are useful to keep the core balance and maintain the skin moisturized after washing the face. This night cleansing pad also includes marine collagen, which is a rich protein ingredient in the sea, lotus extract, laminaria digitata extract and seaweed extract, thereby removing the wastes of the skin and moisturizing it.
Customers can purchase the Mild Morning Cleansing Pad and the Night Cleansing Pad on Amazon.
Media Contact
Company Name: The Fortune Trading Co., Ltd.
Contact Person: Choi Yeon Jun
Email: Send Email
Phone: +82-02-6949-3225
Country: South Korea
Website: https://www.amazon.com/dp/B07KW55T2W?ref=myi_title_dp